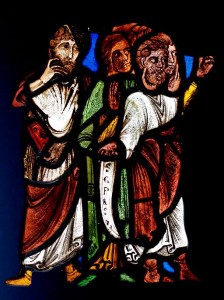 My graduation and a number of church matters busied me away from a series on apostles, and this post will be a final few thoughts on the matter for now. The NT gives requirements for what it is to be an apostle (see here and here), and Paul's description of himself helps to explain his apostleship as well. It is debated whether or not Barnabas is an apostle, but I sided with the evidence that he is not.
In addition to apostles who are the apostles, there are also those who are termed apostles merely in the sense that they are messengers. Paul sent Epaphroditus as a "messenger" (apostolos) back to the Philippians (Phil 2:25). He did the same with Titus and the unnamed brother who were "messengers of the churches" (2 Cor 8:23). Jesus spoke of messengers in general when stating, "nor is a messenger greater than the one who sent him" (John 13:16).
There are also those who are apostles with Paul in the sense that they are sent for the purpose of gospel ministry. Men such as Timothy and Silvanus could be included in this category (1 Thess 2:6; cf. 1:1).
We should also add that Jesus is uniquely "the apostle" in Hebrews 3:1. He was sent like none other to provide redemption for the children of God (cf. Heb 2:10–16).
Having hardly scratched the surface for this topic, hopefully I've laid out the broader principles that establish the multiple senses of the term apostolos as it is used in the NT:
—
This article was originally posted here, another blog to which I regularly contribute.